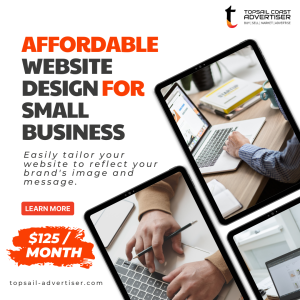 In today's fast-paced, digital world, establishing a robust online presence is vital for businesses of all sizes. For micro and small businesses, having a website can be a game-changer. But what if you could create an impactful online presence without breaking the bank? Enter Topsail Coast Advertiser – your gateway to success with 3-page affordable websites.
The Digital Age Demands an Online Presence
Gone are the days when word-of-mouth was enough to sustain a small business. In the age of the internet, customers look online to discover, engage with, and ultimately choose the businesses they wish to support. Having a website is no longer a luxury; it's a necessity.
Affordability Meets Effectiveness
Topsail Coast Advertiser recognizes the unique needs of micro and small businesses. Our team has been providing expert web design and digital marketing services to help these businesses thrive without the hefty price tag. A 3-page website might seem minimal, but it packs a powerful punch when designed and executed effectively.
1. Cost-Effective Solutions
Small business owners often operate on tight budgets. With Topsail Coast Advertiser, you get an affordable, professionally designed website that doesn't compromise on quality. You can allocate your resources where they're needed most, knowing that your online presence is in capable hands.
2. Instant Online Identity
With a 3-page website, you're not just creating a digital storefront; you're crafting your brand's identity. Your website is the first impression potential customers will have of your business. It's your chance to tell your story, showcase your products or services, and connect with your audience.
3. Professionalism and Trustworthiness
A well-designed website exudes professionalism and trustworthiness. When customers land on your website, they should feel confident about your business. Topsail Coast Advertiser's team ensures your site looks sleek, functions smoothly, and accurately represents your brand.
4. Easy Management
You don't need to be a tech wizard to manage your 3-page website. We provide user-friendly tools and guidance to empower you to take control of your online presence. Keeping your content fresh and relevant is made simple with our support.
The Topsail Coast Advertiser Advantage
Our experienced team of web designers understands the specific needs of micro and small businesses. We take a tailored approach to create a stunning, custom 3-page website that embodies your brand. But we don't stop there:
SEO Optimization: We make sure your website ranks high in search results, making it easy for potential customers to find you.
Mobile Responsiveness: Your website will adapt seamlessly to any device, be it a smartphone, tablet, or desktop computer.
Ongoing Support: We stand by your side every step of the way. Our dedicated support team is just a call or email away to assist you with any inquiries or updates.
Success Stories That Inspire
Small businesses who have embraced Topsail Coast Advertiser's 3-page websites are achieving remarkable results:
Hunter, a local Auto Detailing owner, now enjoys a steady stream of new customers thanks to his effective website.
Mike, a local real estate agent at Land and Buyers Agent, has seen a significant increase in inquiries and overall online presence.
John, a construction debris container service, expanded his business with the help of expert web design and SEO services.
Start Your Journey to Success Today
Don't let your business get left behind in the digital age. With Topsail Coast Advertiser, you can transform your business's online presence, reach new customers, and boost your revenue. Take the first step towards success by visiting our website at https://topsail-advertiser.com. Let us help you elevate your business to new heights in the digital realm.